Sunday, September 29, 2013
Sunday, September 15, 2013
Thursday, July 23, 2009
It's the hottest month out here under the desert sun. It's 113 degrees outside, and I'm sitting in my car in traffic, baking slowly. My underarms start to sweat, and stick to my shirt, creating little damp circles of...Poof! Thankfully, that's the end of the nightmare sequence. Though it is indeed 113 degrees outside (low humidity in the desert, thank God for that!), my underarms rarely break into a sweat. I used to perspire heavily under intense temperature, but I've found certain products to curb that situation. I have two intense, protection-strength anti-perspirants that I use during the summer, and one of them is
Certain Dri
. This is not just an ordinary deodorant you see at your neighborhood drugstores or supermarkets. The product is specially-formulated to provide everyday, all-day dryness for those who suffer from excessive underarm perspiration. According to its website,
Certain Dri® Solid Anti-Perspirant
contains 25% aluminum sesquichlorohydrate (Anhydrous). It is the only over-the-counter antiperspirant with this ingredient, which is more effective than the aluminum zirconium formula found in over-the-counter solid antiperspirants that are labeled "clinical strength."
(See the rest of the review after the jump)


The unique thing about this product is that it is NOT applied in the morning but at bedtime. The product claims to work even while you sleep to control excessive perspiration. In the morning, you may use the Certain Dri UnderArm Refresher to continue the protection throughout the day.

My Take: At first, I thought that this is a product I use during the day. Good thing I researched about it, but only after I've used it during the day for a number of times. It did work during the day, but not as much as when I properly used it according to the instructions. Make sure your underarms are clean when you apply this before going to bed after a bath or a shower. However, do not apply this on just-shaven underarms as this will sting. In the morning, I use another clinical-strength anti-perspirant. After a few weeks, I noticed that my underams began to feel drier, both when I am out in the sun and indoors. I also like the unscented formula because I do not like to smell deodorant when I am drifting off to dreamland.

If you suffer from excessive perspiration and are at the end of your rope, try this product, but make sure you fully read the instructions before you do.

Certain Dri Anti-Perspirant is available in mass-market retail, supermarkets and drug stores nationwide. Suggested retail price of $5.50, but I see it sold at Walgreens for over $6.


Tuesday, May 26, 2009
Which ones do readers say are guaranteed to stop the stink?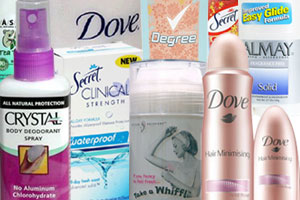 Deodorant is just one of those products you need to be able to trust. That's why we asked our readers to share which deodorants kept them sweat and odor free all day and which, well, didn't. Check out their picks, and say goodbye to stinky pits.
TotalBeauty.com average reader rating: 5.4*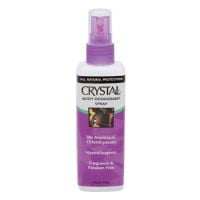 "It was very messy. The nozzle would get clogged and the deodorant went everywhere except where I aimed it to go..."
TotalBeauty.com average reader rating: 5.2*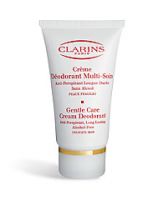 Readers complain about the "hefty price" and the "odd scent." They also say "the cream is a little messy..."
TotalBeauty.com average reader rating: 8.3*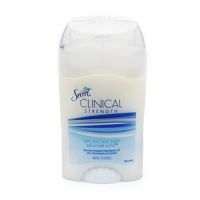 "I have hyper-hydrosis, and it makes me feel disgusting," one reader says. "This is the only non-prescription strength product I can use, and it works!"
(
EDITOR'S NOTE:
I totally agree with
No. 1 Best
- it's what I use, and it's the very best I've tried!)
Posted by

The Shades Of U
at 4:02 PM